Home
About Us
News & Stories
Top 5: Healthy Snacks Delivered To Your Door
Top 5: Healthy Snacks Delivered To Your Door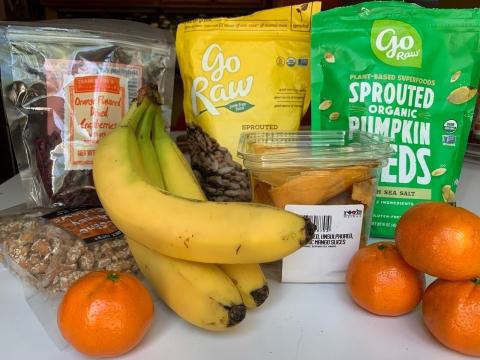 By Edom Mesfein '20
The Alumni Association wouldn't exist without the strong community of Terps - our alumni, current students, family members, faculty and staff. Their contributions to the Alumni Blog offer unique and fresh perspectives on everything from career advice, binge-worthy TV shows and podcasts, tackling life after graduation and more.
Our new way of life brings an opportunity to be more intentional about how we feed our bodies. If you are anything like me, you snack throughout the day, so it becomes even more important to switch out the hot Cheetos and Twix bars for something a little more nutritious. Stocking up on healthier snack options can be the first step to mindful and healthy living, and in this world of social distancing, it's even more convenient when you can order these snacks to your doorstep.
Here are my top 5 favorite snacks:
1. From The Ground Up: Cauliflower Stalks
Halen Brands invests in up-and-coming companies that disrupt the better-for-you snack and beverage space. With brands like Joyful, Owyn, and more, co-founder and CEO Jason Cohen '96 is a go-to for the latest and greatest in the healthy snack world. From The Ground Up has endless plant-based chip replacement options, but their cheddar cauliflower stalks are unmatched. Imagine goldfish meets veggie straw. YUM.
2. Biena: Chickpea Puffs
Never in a million years did I think I would find anything made with chickpeas to be tasty, let alone edible. I have horror-filled flashbacks of my mom forcing me to finish all the chickpeas I picked out of my salads or rice. Biena changes that. Their chickpea puffs come in three flavors: aged white cheddar, vegan ranch, and blazin' hot. My favorite is the white cheddar because it reminds me of the UTZ cheese balls that I couldn't get enough of as a kid (but these are probably 10 times better for you).
3. Bare: Dried Fruit
I've used Bare to replace all my candy urges. Their fruit line includes banana, coconut, apple and pineapple crisps in a bunch of different flavor combinations. My go-to is the cinnamon apple chips, and the fact that they have no preservatives, added sugars or oils makes it the perfect guilt-free snack.
4. Go Raw: Sprouted Pumpkin Seeds
Go Raw has endless snack options from protein bars to cookie crips, but their sprouted pumpkin seeds have been a go-to lately. I can eat a handful while I watch my favorite show, use it as a topping in my salads, or even mix it with dried cranberries and almonds for a quick trail mix. This is by far the most versatile snack in my pantry.
5. RXBAR: Chocolate Sea Salt
When you can't kick your sweet tooth and want a filling snack RXBAR is the way to go. Out of all the RXBARs I've tried, chocolate sea salt takes the cake. It tastes like chocolate cake! With 12 grams of protein and no added sugars, this bar is the perfect mid-day snack to hold you through a busy day.
All of these delicious and nutritious snacks can be found on Amazon, so you can order them from the comfort of your couch. Take your first step to a better lifestyle, and check out this blog if you find yourself looking for some easy and healthy recipes!
###
The Alumni Blog connects you with the latest at UMD. Check out articles on advancing your personal and professional goals, elevating your UMD pride, and celebrating Terp traditions, legacies and accomplishments. For even more content, follow the Alumni Association on Facebook, Instagram and Twitter.