Home
About Us
News & Stories
Top 5: Must-Try Recipes
Top 5: Must-Try Recipes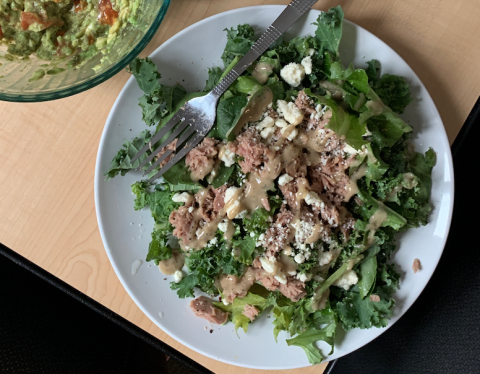 By Edom Mesfein '20
The Alumni Association wouldn't exist without the strong community of Terps - our alumni, current students, family members, faculty and staff. Their contributions to the Alumni Blog offer unique and fresh perspectives on everything from career advice, binge-worthy TV shows and podcasts, tackling life after graduation and more.
With new-found time on my hands, I have been increasingly mindful of what I put in my body. There are no more quick, nutritionless breakfasts while I rush to an early morning meeting, and no more eating lunch out because I didn't have the chance to pack anything. This lifestyle change we are all experiencing has allowed me to get creative with my meals and try new things! Getting into the kitchen can be daunting, but once you find a simple recipe that excites you, you can enjoy the experience and create something good for your mind and body.
These are my top 5 must-try recipes that are the perfect for a brain break, passing time or household activities.
Quick & Hearty Breakfast Omelette
Senam Okpattah '20 is a graduating senior with a passion for food! Her foodstagram (@_sen.yum) features plenty of healthy meal recipes for breakfast, lunch, dinner and even snacks. This recipe she featured on her Instagram story was the hearty breakfast I needed to push through my busy day.
Vegan Banana Bread
This weekend my boyfriend and I were craving something sweet. We didn't want to deal with the chaos of the grocery store, so we looked up recipes and stumbled across this perfect vegan banana bread from the Food Network. The bake time for this bread was nearly an hour with an additional 30-minute cooldown, so after a quick 20 minutes preparing the bread, we binged a couple episodes of our favorite show while we waited! It was super easy and a great activity to do together.
Cauliflower Gnocchi Bowl
I made this recipe for my mom and grandma last week, and they told me I needed to stock up on Trader Joe's cauliflower gnocchi on my next grocery run. They couldn't get enough. I turned this cauliflower gnocchi veggie bake into a bowl with some quick homemade guac and chicken for protein! You can throw in your own flavors and add-ins or follow the recipe to a T. Both ways are delicious.
Lemony Tuna Kale Salad
I usually don't go for a salad, but what better time to branch out than now! I found this quick recipe online and made due with what I already had at home. I didn't have any white beans and parmesan, so I replaced that with black beans and feta! Oh and I don't know if you have caught on yet, but I love homemade guac, so I topped the salad with that rather than sliced avocados. Take your spin at this super filling salad!
Sweet Potato Pancakes
Atara Bernstein '13 is a 2020 Forbes 30 Under 30 recognized alumna and the co-founder of a food loving community of women called the Pineapple Collaborative. When reading their guide to social distancing, I uncovered a hidden gem on their instagram page (@pineapplecollaborative): if you post an Instagram highlight sharing whatever 4-5 miscellaneous items you have in your pantry, they'll reply back with a recipie for you to try! While reading through them, I saw one that fit what I had and decided to whip up some yummy sweet potato pancakes for my family. Check out the highlight, and let them give you a new recipe to try based on what you already have.
Try one of these fun recipes this weekend, turn on a podcast or some music and make it a household affair!
###
The Alumni Blog connects you with the latest at UMD. Check out articles on advancing your personal and professional goals, elevating your UMD pride, and celebrating Terp traditions, legacies and accomplishments. For even more content, follow the Alumni Association on Facebook, Instagram and Twitter.