Home
About Us
News & Stories
Top 5: Best Books to Read Right Now
Top 5: Best Books to Read Right Now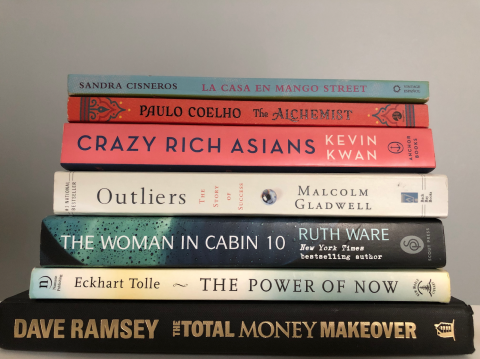 By Edom Mesfein '20
The Alumni Association wouldn't exist without the strong community of Terps - our alumni, current students, family members, faculty and staff. Their contributions to the Alumni Blog offer unique and fresh perspectives on everything from career advice, binge-worthy TV shows and podcasts, tackling life after graduation and more.
This increase of time on our hands is the perfect opportunity each day to step away from our TV screens, laptops and phones for an hour or two and open a book. Reading is an exercise for our brain and can help improve our ability to empathize with others. You can use a novel as an escape from reality, an opportunity to practice mindfulness or a way to learn new skills. Whatever your goal is, find the perfect cozy spot in your home, grab your favorite blanket, a warm cup of tea and get started with your book of choice!
These five books are from a variety of genres - start with one that sparks your interest:
1. "Heaven Should Fall" by Rebecca Coleman '07
Rebecca Coleman '07 is a skilled novelist and a University of Maryland graduate with a B.A. in English. Her first book, "Kingdom of Childhood," put her on the map. She is most known for her ability to make you empathize with her flawed characters as they try their best to navigate life. In "Heaven Should Fall," college couple Jill and Cade endure several tragic turns as they try their best to find happiness. The story also explores the effects of PTSD on soldiers, and explores survivalist mentalities. You won't be able to put this book down.
2. "Little Fires Everywhere" by Celeste Ng
This #1 New York Times Best Seller is now a Hulu original series, starring Kerry Washington and Reese Witherspoon. I personally have not started the show, so I have no comments there, but this novel is riveting. I am a bit of an impatient reader so when I pick up any novel, I usually feel like it's starting off slow. I felt that with this one, due to the immense amount of character build up, but as I read on, I completely understood the need for it. These characters and families are extremely complex, and carefully tied together, much like the American society we find ourselves navigating. See for yourself what the hype is about!
3. "The Source of Self Regard" by Toni Morrison
Oh, my: Toni Morisson, a writer that has always been near and dear to my heart. All of Morisson's bestsellers are amazing novels that have you at the edge of your chair and leave you questioning society's fundamental core. I read this book over the summer but it is one I often return to. It is a collection of her non-fiction writings and it is her personal explorations of American society as well as human nature. It explores our weakest and most challenging times and provides direct insights into those moments. The book leaves you wondering and exploring the topics for yourself, and is definitely one you may want to discuss with friends.
4. "The Power of Now" by Eckhart Tolle
This short read is all about mindfulness and how to regain control of your life. This book teaches us all how to live in the moment, especially at a time when we are so attached to devices and platforms that can provoke intense anxiety about the future. It really helped center me and helped me reprioritize the things I choose to focus on each day. It provides a much needed break from our hectic reality and is a book that I feel like everyone should have on their shelf.
5. "How to Skimm Your Life" by The Skimm
This is a light read (if even a read at all) and is essential to every recent grad's bookshelf. The funny graphics and concise information make the book feel fun. In this book, The Skimm covers all the essential how-to's and life tips that we feel like we need to know about adulting, but were never directly taught. It explains post-grad finance, the best wine and food pairings, travel hacks and more! This book is going to be one you may want to refer to when googling life questions leads to a dead end or leaves you more confused than when you started.
And there you have it: the five best books to read right now. Which book will you start with? You can find all of these books on Amazon (you can also use smile to support the Alumni Association Inc.!), so pick one and get comfortable!
###
The Alumni Blog connects you with the latest at UMD. Check out articles on advancing your personal and professional goals, elevating your UMD pride, and celebrating Terp traditions, legacies and accomplishments. For even more content, follow the Alumni Association on Facebook, Instagram and Twitter.