Home
About Us
News & Stories
Event Recap: Home 101
Event Recap: Home 101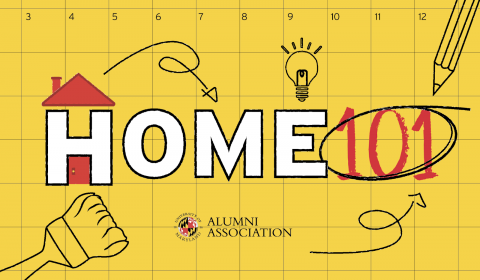 By Abby Humbel '21
While most of us have been stuck inside for over a year now, Terps were wondering what they could do to give their homes a more, well, "homey" feel. This past March, the Alumni Association answered the call with "Home 101," a signature virtual event series where Terp experts shared tips on enhancing outdoor and indoor spaces. Participants discovered ways to make their homes more sustainable, got the lowdown on real estate and home buying, and spoke directly with architects and home builders. Below are key events from the series and their invaluable takeaways.
Real Estate Myths: Busted!
This session, hosted by real estate experts David Stroh '16 and Chris Edge, explored the art of real estate. Stroh and Edge reminded us that this market is constantly changing, and that every buying and selling situation is unique. One major takeaway: the surprising statistics showing that homeowning was becoming more affordable than renting.
Renovations 101
Joshua O. Hill '00 and Max Sposito '13 revealed tips and tricks for executing a successful renovation project, including sourcing quality architects and contractors, avoiding common pitfalls and making your dream space a reality. For a flawless start to your renovation projects, Hill and Sposito suggest you share as much inspiration and input as you can with designers to help ensure that they can create exactly what you want.
Ditch Dirty Fuels: Your Personal Part of Our Carbon-Free Future
Mark Stewart '08 discussed components of a carbon-free home, including heat-pump air conditioning and heating systems, water heaters, induction ranges, electric vehicles and renewable electricity supplies. Additionally, Stewart revealed how to find financial incentives to ditch dirty fuels, saving you money while saving the planet.
Home 101 Takeovers
Amy Shavelson '00, co-director of interior design at Hickok Cole, posted takeover videos on the Alumni Association's Instagram account to share wellness tips for your home office. Here are some of the major takeaways:
- Keep Moving
"Set an alarm for every half hour ideally to get up and walk around," Shavelson suggests, "At a minimum, try to get up and walk around for ten minutes every hour. You can take a meeting outside or walk around the block especially as it starts to get nicer out."
- Ventilation and Temperature
Ventilation and temperature can make a significant difference in how we feel at work. Studies show that indoor air quality can be two to five times worse than outdoor air quality, while uncomfortable temperatures can decrease productivity by 4-6%. "Crack open a window," Shavelson says. "Get a nice cool breeze...by doing this simple act you will increase your concentration as well as gain a connection to nature and also allow an avenue to decrease some of the toxins that accumulate within the home on a regular basis."
- Bring the Outdoors In
Light plays a major role in our ability to be productive. In fact, one study found that access to natural light and views improved work performance by 70%. Try orienting your workspace based on access to natural light, using task lights as secondary options to reduce eye strain. Situate yourself by a window with views of nature or take periodic breaks to walk around the neighborhood. The combination of movement, fresh air and sunlight will revitalize your senses and help regulate your circadian rhythm.
Shavelson says, "If you're able to do something like getting a succulent at your desk or some kind of greenery there's a real psychological, cognitive and overall well being benefit associated with this."
- Ergonomics and Designing Your Desk Space
According to WELL, a leading tool for advancing health and well-being in buildings, one study found that ergonomic training, including the installation of ergonomic chairs, reduced musculoskeletal symptoms like joint pain by roughly 40%. But for many navigating the work from home experience, a proper ergonomic chair isn't an option.
Shavelson says: "A good task chair can actually reduce musculoskeletal symptoms like joint pain by up to 40% in individuals… If you are sitting in a kitchen chair, a dining room chair or on your living room sofa there is a good chance you could be really sacrificing posture and physical health."
As we take to working on kitchen stools and living rooms sofas, there's a good chance we're sacrificing our posture. Comfort and ergonomics are particularly important as the average American sits for at least six hours a day, so consider placing a throw pillow or rolled towel at your lower back for added support.
- Create a Designated and Calm Space
Creating a space that is specific to work is essential to separating your professional from your personal life. Shavelson suggests designating a space for your work away from your bedroom and other parts of the home.
Also make sure to have tools and tech handy to make your work space as calm and productive as possible: "Noise canceling headphones are a great idea to shut some noise out. I like to play spa music through mine," Shavelson shares, adding, "getting an exercise ball to sit on and bounce instead of your chair for a few hours a day is a great way to incorporate movement into your day… now is also the time to invest in some organizers."
Thank you to all of our Home 101 participants, we are grateful we were able to bring alumni together to improve their homes, especially in a time where we are all spending a bit more time inside. If you missed any sessions, not to worry, all of the recordings from the series can be found on the University of Maryland Alumni Youtube channel.
###
The Alumni Blog connects you with the latest at UMD. Check out articles on advancing your personal and professional goals, elevating your UMD pride, and celebrating Terp traditions, legacies and accomplishments. For even more content, follow the Alumni Association on Facebook, Instagram, Twitter, LinkedIn and YouTube. Become a UMD Champion to receive monthly shareable pride points, news and more straight to your inbox.