Home
About Us
News & Stories
Fashioning a Romance
Fashioning a Romance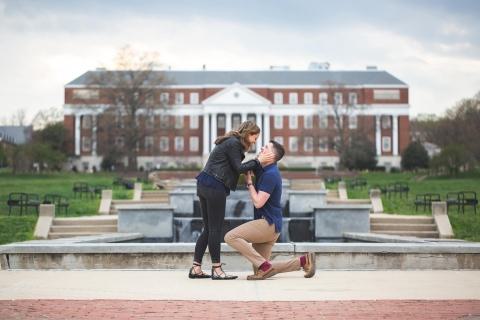 By Andrew Faught
Joe Danczuk '15 was enrolled at UMD for all of a day when he met Christina Germano Danczuk '15 at a dinner their roommates organized at their adjacent off-campus apartments. Christina had an intellectual air and was friendly. Joe created an altogether different impression.
"The joke is that Christina appreciated my style: a Nike T-shirt and shorts," Joe says. "I was not a good dresser back then. But I am now, thanks to Christina's efforts to buy my clothes!"
After a decade of dating, the pair wed last September in Newport, Rhode Island It's been a whirlwind ever since for the Hoboken, New Jersey, couple.
"We haven't even had time for a proper honeymoon: we got married on a Saturday, and Joe started his second year of law school that Wednesday," says Christina, a public relations manager for Amazon Web Services.

"We still find ways to celebrate and spend quality time with each other, whether that's carving out time for a date night, going to a Broadway show or just making sure we have dinner together every night — usually followed by some 'Downton Abbey,' our current Netflix show."
Besides attending Columbia Law School, Joe is also a captain in the New York Army National Guard. The couple still make time to visit College Park, especially during football season. As students, they were "tailgating pros" in Lot 11B on game days, Joe says.
Given Joe's military service and varied postings, the two are never quite sure what each Valentine's Day will bring. One of their favorites was in 2016, when Christina flew to Dallas to meet Joe, who at the time was stationed at nearby Fort Sill in Oklahoma. They explored the city and the Fort Worth stockyards.
They've also spent Valentine's Day in Germany and Israel, where Joe was taking part in training.
For now, Joe says their goals are "just to be as happy and loving as we can in this world, loving to each other and everyone else, too." While the newlyweds eventually plan to start a family, they remain a party of two for now. "Perhaps we'll start with a dog soon," Joe adds. "Christina's already picked out a name: Howie."
Though married for just five months, Christina has recognized a few ways to maintain matrimonial bliss.
"We recommend always staying in communication and focusing on the big goals of your lives." And, she adds, "look past the small inconveniences or annoyances."
###
The Alumni Blog connects you with the latest at UMD. Check out articles on advancing your personal and professional goals, elevating your UMD pride, and celebrating Terp traditions, legacies and accomplishments. For even more content, follow the Alumni Association on Facebook, Instagram, Twitter, LinkedIn and YouTube. Become a UMD Champion to receive monthly shareable pride points, news and more straight to your inbox.