Home
About Us
News & Stories
Fearless Terps Under 30 Share Their Ideas
Fearless Terps Under 30 Share Their Ideas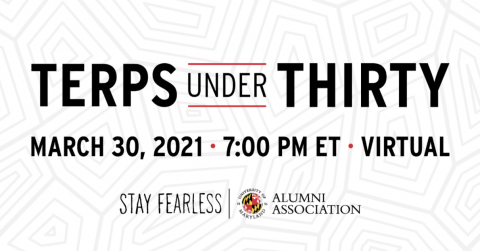 TED Talk-style presentations from 3 outstanding Terp Alumni who are under 30 years old
By Luke Amato '22, Steven Ioannidis '22 and Emily Leo '22
On March 30, the Student Alumni Leadership Council, in conjunction with the Alumni Association, hosted the first ever virtualTerps Under 30 annual event. With Continued restrictions due to COVID-19, this year's event was forced to take place on Zoom, but it still maintained an interactive, collegial feel for its 83 audience members, mainly through the use of breakout rooms.
The event featured three extraordinary University of Maryland alumni guest speakers: Jared Brown '19, a current associate manager for politics and government outreach at Facebook and former associate at the Obama Foundation; Candess Correll '16, a current senior software engineer at EY and former pro-bowl cheerleader with the Washington Football Team; and Evan Lutz '14, a Shark Tank alum and CEO of social impact start-up Hungry Harvest.
During the first half of the event, Brown, Cornell and Lutz gave short presentations about their backgrounds and personal philosophies in how they approach life and the work they accomplish. Brown shared a vision of forgiveness and second chances for previously incarcerated youth. Correll spoke about finding success in two different fields and empowering women to succeed in male-dominated industries. Lutz gave a glimpse into his world of social impact entrepreneurship and how he lives life with purpose every day.
After the speakers' presentations, the event broke out into facilitated networking sessions with the speakers. The willingness of the three speakers to interact and connect with current UMD students provided attendees encouragement and helped to remind all in attendance that the Terp community is always there to support them.
###
The Alumni Blog connects you with the latest at UMD. Check out articles on advancing your personal and professional goals, elevating your UMD pride, and celebrating Terp traditions, legacies and accomplishments. For even more content, follow the Alumni Association on Facebook, Instagram, Twitter, LinkedIn and YouTube. Become a UMD Champion to receive monthly shareable pride points, news and more straight to your inbox.