Home
About Us
News & Stories
Finding Hope: Two Terps Launch Foundation to Help Fight Son's Rare Disease
Finding Hope: Two Terps Launch Foundation to Help Fight Son's Rare Disease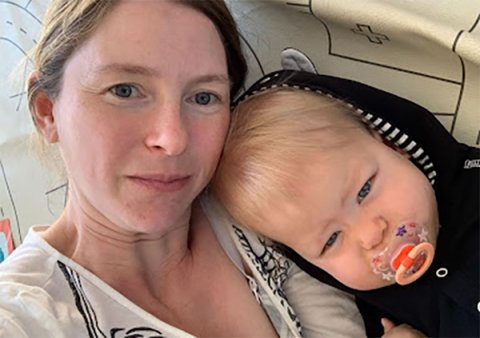 By Allison Eatough '97
The warning signs started three months after Hannah (Lowe) Corman '05 and her husband, Mark Corman MBA '04, welcomed their second son into the world.
Austin, the fair-haired, bright-eyed, little brother to Ean, suddenly stopped pushing himself up during tummy time – an activity meant to improve babies' motor skills and strengthen their neck and shoulder muscles.
"We'd prop him up on a pillow to give him a little more lift," the Texas resident said. "But he'd always push with his upper back to get horizontal again."
Austin also wasn't drinking enough milk, and as a result, wasn't gaining enough weight.
After months of diet changes, pediatric specialist appointments, a hospitalization, feeding tubes and rounds of genetic testing, doctors diagnosed Austin with L-CMD, a rare, severe form of congenital muscular dystrophy.
"The moment was a blur, but I think in that room, what I heard was children with L-CMD often never sit up, never walk," Corman recalled. "There's so few cases, we can't say how long he'll live. Some kids die really young, some kids live to be two, some kids live into their later childhood or early teens. It just really depends."
While there is no cure for this progressive disease, the Cormans learned of several research projects exploring L-CMD. So in 2020, they launched the L-CMD Research Foundation to help translate that research into treatments and eventually a cure.
It was a role Corman had unknowingly been preparing for since her days at UMD.
A dual finance and French major, Corman began her career as an analyst for Constellation Energy (where she met her husband). She then took a job with M&T Bank, where she provided investment banking services for hospitals and nonprofit organizations.
"As part of that world, I ended up doing a lot of fundraising and volunteer work," she said.
Corman's volunteer efforts grew when she and her husband moved to Michigan. There, she became an advocate for cancer support services.
Financing, fundraising and volunteering – all experiences that come in handy when launching a nonprofit organization.
As head of the L-CMD Research Foundation, Corman set a goal to raise $2 million for L-CMD gene therapy research before Austin's second birthday in late August. As of late July, the nonprofit has raised more than $1 million through everything from direct donations to art auctions and restaurant nights. Friends, family members, sorority sisters and even strangers have contributed, Corman said.
"My friend Janice Park ('05) from Alpha Phi makes jewelry," Corman said. "When she heard about Austin and the fundraising, she jumped right in. She said she felt compelled to help, and to date she's raised over $5,000 by donating proceeds of some of her earring styles to the foundation."
Each donation represents hope for Austin and others with L-CMD.
"Any parent can understand the drive to go as far as you can, down whatever path it is, to help your child," Corman said. "We know that there are no guarantees. We might create something that won't help Austin but will benefit other children… We are going to keep trying until there's nowhere else to go."
###
The Alumni Blog connects you with the latest at UMD. Check out articles on advancing your personal and professional goals, elevating your UMD pride, and celebrating Terp traditions, legacies and accomplishments. For even more content, follow the Alumni Association on Facebook, Instagram, Twitter, LinkedIn and YouTube. Become a UMD Champion to receive monthly shareable pride points, news and more straight to your inbox.