Home
About Us
News & Stories
Meet the Staff: Angela Dimopoulos '07
Meet the Staff: Angela Dimopoulos '07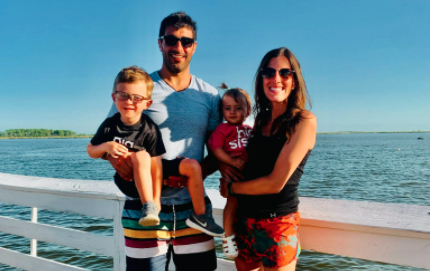 By Amy Guan '22
Angela Dimopoulos '07 is the Senior Director of Alumni Engagement and Outreach. Her bright and cheerful spirit not only reaches our alumni, but also our hearts. We are pleased to introduce her to you in this installment of our "Meet the Staff" series.
In your own words, what do you do at the Alumni Association?
I lead the regional and affinity team. We manage volunteers across the country and plan events to keep alumni engaged and connected to UMD. I specifically focus on Maryland as my region of engagement, and I also manage the Alumni Travel program.
What you can find me doing outside of work:
Enjoying the outdoors with my kids Luca and Amelia, and husband, Matt.
What is your favorite UMD memory?
Sitting on the mall and catching some sun in between classes.
What's your go-to coffee order?
Skinny vanilla latte! Or in the fall, a pumpkin cold brew.
Reach out to Angela if you are looking to volunteer and give back in your community by planning an event, connecting with fellow Terps or ready to book your next trip:
Angela Dimopoulos
Senior Director of Alumni Engagement and Outreach
Email: adimop@umd.edu | Phone: 301.405.7938
###
In our "Meet the Staff" blog series we introduce you to the hardworking team members at the University of Maryland Alumni Association who help connect you with fellow Terps, prepare you for new opportunities and strengthen your legacy and alma mater.