Home
About Us
News & Stories
Meet Your Camp Diamondback Counselors: Mary Bathon, Leena Donaldson and Natalie Ross
Meet Your Camp Diamondback Counselors: Mary Bathon, Leena Donaldson and Natalie Ross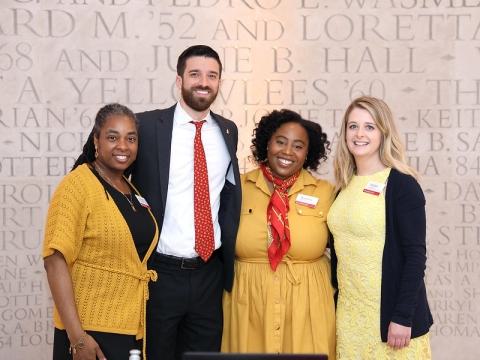 By Mary Bathon
In our "Meet the Staff" blog series we introduce you to the hardworking team members at the University of Maryland Alumni Association who help connect you with fellow Terps, prepare you for new opportunities and strengthen your legacy and alma mater.
In our next installment of our "Meet the Staff" series, we want to introduce you to three members of the Alumni Association staff who are responsible for our new virtual summer camp, Camp Diamondback! Natalie, Leena and Mary are all members of our fabulous special events team. They are responsible for planning some of our alumni's favorite events, including Homecoming, A Celebration of Terps and many more one-of-a-kind experiences all over the country.
What were some of your favorite summer memories as a child?
Leena: I used to go to Massanutten Resort in VA with my best friend's family. The craziest trip involved her nephew getting sprayed by a skunk….
Natalie: My favorite summer camp memory was when my sister and I choreographed a fun dance routine for the end of summer camp talent show - it was a hit!
Mary: My grandparents live on a lake in Maine, so we would spend the summers there learning how to sail and waterski! When I was older, I worked as a camp counselor for many summers and taught horseback riding and sailing!
What are you most excited to learn during Camp Diamondback?
Leena: How to make healthy lunches for my kids!
Natalie: How to tie-dye my shirt! I haven't tie-dyed a shirt in years and I am looking forward to it.
Mary: Everything! I love summer camp and I am excited to revive my role as a camp counselor. I love to exercise, so I'm super excited for sports & health week, but I am also looking forward to the fun experiments during science week.
Do you have any special talents?
Leena: I used to be a dancer in my college band at Hampton University.
Natalie: Well, I don't know if it's "special" but I can sing and I learn choreography really quickly.
Mary: I consider myself a pretty good dancer, but Natalie and Leena are definitely the professionals! My mom is a baker (and will be making a special appearance during camp), so I like to think I have picked up some of her talent.
Reach out to your Camp Diamondback counselors with any camp related questions: umdaa_events@umd.edu.
Mary Bathon
Assistant Director of Alumni Events and Programs
Email: mbathon@umd.edu
Phone: 301-405-1019
Leena Donaldson
Event Coordinator, Alumni Programs and Events
Email: lmdonaldson@umd.edu
Phone: 301-405-6587
Natalie Ross
Senior Director of Alumni Programs and Events
Email: nross@umd.edu
Phone: 301-405-2939
###
The Alumni Blog connects you with the latest at UMD. Check out articles on advancing your personal and professional goals, elevating your UMD pride, and celebrating Terp traditions, legacies and accomplishments. For even more content, follow the Alumni Association on Facebook, Instagram and Twitter.