Home
About Us
News & Stories
Terps Summer Recap: Crab Feasts of 2021
Terps Summer Recap: Crab Feasts of 2021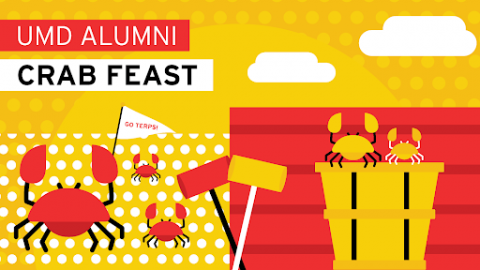 As we ease back on COVID-19 restrictions, our network leaders were eager to reconnect with alums in their region. Summer was the perfect time to kick things off, with our annual Crab Feasts and Barbeques hosted throughout the US. Read on to hear from four of our distinguished networks who held gatherings this summer reaching over 200 Terps.
San Diego Terps
Maria Ball
TerpsSD@gmail.com
Montgomery County Terps
Stephanie Groff
MoCoTerps@gmail.com
Northern New Jersey Terps
Neal Kreitman
umdnnj@gmail.com
Howard County Terps
Rachel Carr
umdhowardcounty@gmail.com
What were you hearing from attendees at the event? Were they excited to regather? Cautious? Looking forward to more events?
SD: Alumni were excited to attend outdoor events and were glad we were strict about mask wearing.
MC: It seemed like most people were excited to regather and some attended an alumni event for the first time. People seemed excited for more events, but with a hint of caution.
NJ: Everyone is glad to get together in person. We currently are having in-person game watches as well.
HC: People enjoyed the event and did seem to have concerns over COVID, but appreciated that the event was not too large and that it was outside.
How did your network feel to host an in-person event again?
SD: Pretty good - a few people left the board during Covid so we need more help.
MC: It felt great! While we understand some people are not ready to be back in person yet, we hope to have a few more in-person events this year! People are zoomed out.
HC: More than ready, most of us… though one particular board member had more reservations about it and wanted to keep things smaller than the others.
Any tips for those who want to host their own Crab Feast (at home or otherwise)?
SD: Use the Crab Place for your crabs and do the event at a park to keep the cost down.
MC: It takes LOTS of planning. So I suggest starting as early as you can to host a big event.
NJ: Use the Crab Place in Baltimore for crabs. They ship anywhere in the US. The crabs were great. You can get them the next day if you need. We received them already cooked and just warmed them up on the grill.
What is your network looking forward to doing next?
SD: We have quite a few events planned this fall for alums to get together and reconnect after a long time apart. We have a concert at The Rady Shell, a private wine tasting event and a dinner cruise around San Diego to see the Parade of Lights! Looking forward to seeing everyone soon.
MC: Fall day at Lone Oak Brewery and hopefully a holiday in-person event.
NJ: Hosting game watches and for the Rutgers-Maryland football game, hosting a tailgate at Rutgers.

Want to see more photos from the event? Visit the Alumni Association's Flickr page.

Wherever you are—in the world, in your career, in your life -- you're a Terp forever. Maybe you live in L.A., Boston or Beijing. Maybe you work in finance, bioscience or education. Maybe you just left campus or maybe it's been 50 years since you graduated. What do you have in common with 400,000 people across the world? You're all Terps. And your Alumni Association is here to help you find your Terp family - wherever you may be. Find Your Network
###
The Alumni Blog connects you with the latest at UMD. Check out articles on advancing your personal and professional goals, elevating your UMD pride, and celebrating Terp traditions, legacies and accomplishments. For even more content, follow the Alumni Association on Facebook, Instagram, Twitter, LinkedIn and YouTube. Become a UMD Champion to receive monthly shareable pride points, news and more straight to your inbox.