Home
About Us
News & Stories
The Inaugural Career Week Recap
The Inaugural Career Week Recap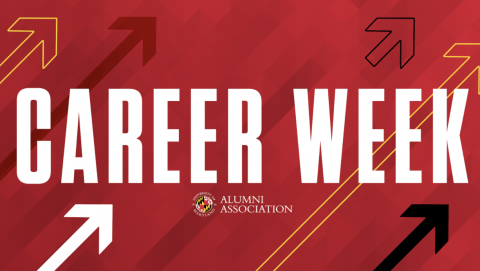 By: Abby Humbel '21
The University of Maryland Alumni Association kicked off the new year by hosting its first-ever Career Week January 25-29, 2021. This virtual series engaged Terps of all career sectors, levels, affinities and industries, as well as graduates from a variety of UMD schools and colleges. Bita Riazi '19, a recent graduate, and Charlotte Wagner '90, an established executive, weighed in on the impact Career Week has had on them.
After discovering the event on Linkedin, Riazi attended as a job seeker. She participated in five events and enjoyed each one, describing Career Week as, "A resourceful professional development conference tailored to help University of Maryland students and alumni not only to network and build community, but also to learn strategies to further enhance or redefine their future career goals."
She added, "Those who didn't attend missed out on building community. Speaking from experience, it's been a very difficult and discouraging time searching for jobs. However the individuals I was able to connect with through the Alumni Association had a lot of encouraging and helpful words to offer."
For Riazi, the Alumni Association has been instrumental in providing career resources. "If it weren't for the Alumni Association, I wouldn't have reached my 500+ goal for connections on LinkedIn, created my C4T account, as well as my Terrapins Connect profile, nor would I've been able to schedule a few Zoom calls with individual's who'd mentioned they'd like to see if they could assist me in any way to further/support my career goals," she said.
On the other side of the event, panelist Charlotte Wagner '90 remarked about her experience leading the session "Leaping into Leadership.", Wagner has been involved with the Alumni Association for years, noting, "I'm from Maryland, and moved to California 22 years ago. It's great to have that Maryland connection." Jared Coy, UMD major gifts Officer for the West region, suggested that Wagner speak at the event. She was eager to join after attending another beneficial webinar in 2020.
Wagner spoke to mid-career professionals looking to leap to a higher level leadership position. She shared, "Career Week was a great collection of many different topics for all career levels. As a senior person, I still found some of the more entry level sessions helpful, and I will use it as advice for my team. A key way it supported me is the networking and contacts I made."
Wagner said that she would love to participate again, and she listened to the recording of the session, "Play It to Win: Corporate Strategies for Young Professionals in Corporate America," by Nefretiti Nassar '10, M.S. '12, which she enjoyed so much that she followed up with Nassar on LinkedIn.
Wagner also connected with Jennifer Lam '05, an attendee of her panel and of the "NetWERKing Into Your Dream Job" panel. Jennifer described her experience in a positive light, saying, "Through attending these UMD Career Week events, I now feel more prepared to come into a leadership role within a new industry," highlighting just one example of networking that came from their participation in Career Week.
Check out Riazi and Wagner's favorite Career Week events through our Youtube playlist, and check out our robust list of resources & programming to help our Terps succeed at every career stage.
###
The Alumni Blog connects you with the latest at UMD. Check out articles on advancing your personal and professional goals, elevating your UMD pride, and celebrating Terp traditions, legacies and accomplishments. For even more content, follow the Alumni Association on Facebook, Instagram, Twitter, LinkedIn and YouTube. Become a UMD Champion to receive monthly shareable pride points, news and more straight to your inbox.