Home
About Us
News & Stories
Top 5 Decorations for Terps
Top 5 Decorations for Terps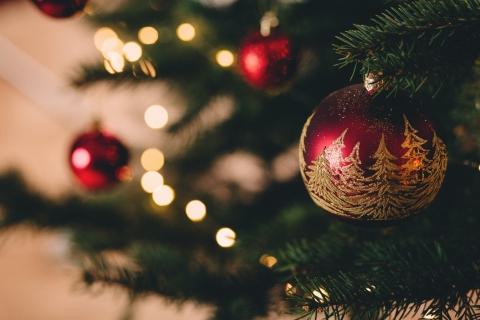 By Amy Guan '22
The holiday season means one important thing — decorations! Deck your halls withTerrapin pride this year with these Terp-themed holiday decorations.
1. Testudo Legacy Statue
Have you ever wished you could take our beloved Testudo home? Behold: the Maryland Terrapins Collegiate Legacy Statue. Made of durable limestone, this hand-painted mini mascot will bring holiday joy anywhere in your home. Just add a mini Santa hat, some powdery snow or a small elf friend, and Testudo will be set for the season.
2. "M" Logo Pillows
Rest easy with these comfy and cozy "M" logo throw pillows from Route One Apparel. Nestle them between your reindeer pillows (we know you have them) for a pop of Terrapin color anywhere in your home.
3. Terrapins Tree Logo Ornament
Terp-themed ornaments are the perfect festive addition to your holiday tree. Check out the delicate glass Testudo and "M" logo ornaments, which pack a punch with Maryland's beloved mascot, the classic "M," and a lot of intense red glitter.
4. UMD Leaner Sign
Holiday season = holiday parties. Greet your guests and let everyone in town know who you're rooting for with these leaner welcome signs. Or, use the signs to one-up a neighbor with an unfortunate affinity for another university.
5. UMD Stocking
Jazz up your holiday decorations with this Maryland Basketball Testudo stocking. Featuring the classic Testudo design, this ready-to-hang stocking is made from basketball leather and available in three different colors. GO TERPS!
Bring a little bit of Maryland home with you this season with Terp-themed holiday decorations. Check out our other holiday blog post, "5 Stocking Stuffers: Terp Edition" for more gift inspiration. Whatever catches your holiday fancy, make sure to tag us in your Terp decorating photos on Instagram @maryland_alumni. Now, go forth and make your holidays this year a Terp-rific one!
###
The Alumni Blog connects you with the latest at UMD. Check out articles on advancing your personal and professional goals, elevating your UMD pride, and celebrating Terp traditions, legacies and accomplishments. For even more content, follow the Alumni Association on Facebook, Instagram, Twitter, LinkedIn and YouTube. Become a UMD Champion to receive monthly shareable pride points, news and more straight to your inbox.