Home
About Us
News & Stories
Meet the Board of Governors: The Honorable Carlos F. Acosta '85, M.A. '91
Meet the Board of Governors: The Honorable Carlos F. Acosta '85, M.A. '91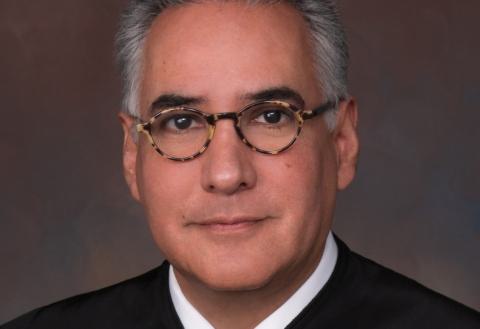 By Allison Eatough '97
As a student at the University of Maryland, Carlos F. Acosta '85, M.A. '91 saw plenty of parking tickets, but not because he was a campus scofflaw.
The former attorney and now judge served as a volunteer with the university's Student Traffic Appeals Board, which oversees hundreds of student appeals each year for parking citations.
"We would review tickets and then make a decision as to whether (the fee) was reduced or if the student should get the ticket waived," Acosta recalled.
Acosta eventually took a paid position running the traffic appeals division and then moved onto the University Student Judiciary as a campus advocate.
"I enjoyed dealing with rules-based systems and changing and modifying people's behavior in a positive manner," he said. "The more I did it and the more I moved up in that office, the more I said, 'I'm going to go to law school.'"
And so he did. After earning degrees in English and rhetoric at the University of Maryland, Acosta earned his law degree from Southern Methodist University School of Law. He then embarked on a successful law career, with jobs ranging from assistant state's attorney, trial attorney for the U.S. Department of Justice and associate judge for the District Court of Maryland for Montgomery County. He joined the Montgomery County Circuit Court in January.
While his career and family life kept him busy, the university was never far from his heart. Acosta visited the campus with his wife, Ann-Marie Acosta '87, and their three children, whenever he could.
"I remember being a little kid going to University of Maryland basketball games with my dad," he said. "It's how I first was introduced to Maryland ... I do that now with my kids."
During one visit, Acosta ran into a friend from his student judiciary days. She recommended he join the College of Arts and Humanities Academic Network. He not only joined – he became president.
In that role, he learned about the University of Maryland Alumni Association Board of Governors, which he joined in 2019.
"When I came on board, I wanted to be a part of getting alumni involved back at the University of Maryland," he said. "I think the Alumni Association is really finally coming into its own as a force on the campus and outside the campus."
In the future, Acosta said he'd like to see alumni across the country serve as university representatives. One potential initiative: presenting local high school scholarship winners with tokens of the university.
"We have tens of thousands of living alumni," he said. "By going to a high school assembly and giving a student a pendant or certificate, it recognizes the student's achievement and builds our brand."
###
The Alumni Blog connects you with the latest at UMD. Check out articles on advancing your personal and professional goals, elevating your UMD pride, and celebrating Terp traditions, legacies and accomplishments. For even more content, follow the Alumni Association on
Facebook
,
Instagram
,
Twitter
,
LinkedIn
and
YouTube
. Become a
UMD Champion
to receive monthly shareable pride points, news and more straight to your inbox.